Return to Herron Video Home Page

Herron Rail Video
New and Coming Video
---
Check out our newest releases in stock...
LAST CRUISE of the DELTA QUEEN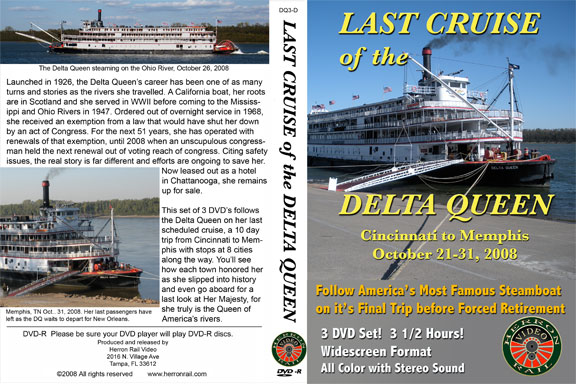 Follow the steamboat Delta Queen on it's last scheduled overnight cruise from Cincinnati to Memphis October 21-31, 2008.
A set of three DVD's in widescreen format. Total time of all three DVD's is 3 hrs 28 mins.
Includes the departing ceremony at Cincinnati with all stops the boat made along the way at Maysville, Ky, Madison, IN, Louisville, Ky, Grandview, IN, Henderson, KY, Paducah, Ky, Cape Giradeau, MO, New Madrid, MO, and Memphis, TN with dramatic and scenic views from the riverbank as the boat ran her historic final cruise.
Lots of whistling and calliope playing included plus you'll go aboard the boat in Louisville for a look at her beautiful furnishings.
Order now. In stock and ready to ship. A great value of 3 DVD's for only $ 39.95! Order item DQ-3.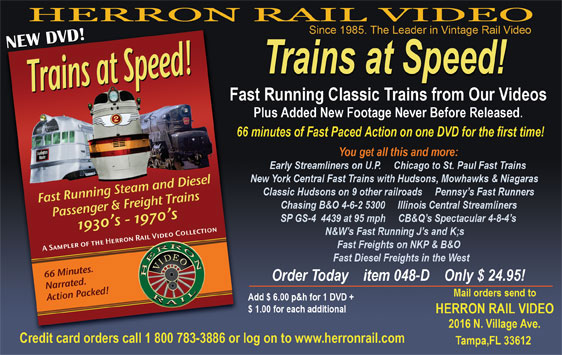 We are proud to announce two new DVD's on Southern Pacific steam in the 1940's and 1950's featuring original SP sound! Each has original sound film by Joseph Schmitz that he shot in the 1950's plus additional footage from our archives.
CONTENTS
66 minutes of fast paced action scenes from many of our videos plus new footage never used before. Think of it as a sampler but with much more added to it. If you have the new Kalmbach magazine "Fast Trains", this DVD will bring to life many of the subjects in it.
All for just $24.95! Order yours today!
Southern Pacific Classic Steam Volume 1 and 2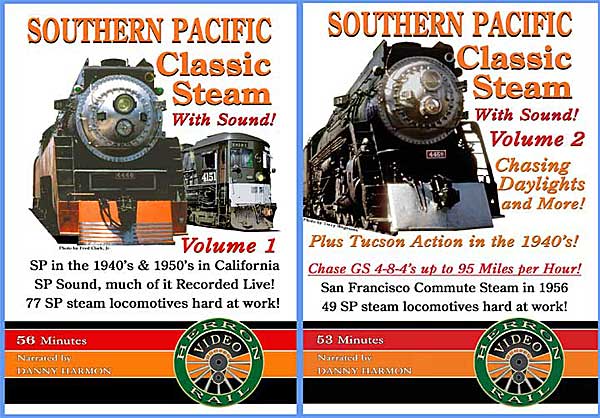 We are proud to announce two new DVD's on Southern Pacific steam in the 1940's and 1950's featuring original SP sound! Each has original sound film by Joseph Schmitz that he shot in the 1950's plus additional footage from our archives.

CONTENTS
Volume 1 begins with some classic 16mm footage of Daylights, Cab Forwards, and other power in beautiful settings plus some steam scenes from S.P. safety films. Then you'll find Joseph Schmitz's 8mm footage of a 1954 visit to the Tayllor Roundhouse followed by a live his sound footage of a Cab Forward at Oakland, San Francisco steam Commute trains in 1955 before chasing Cab Forwards and AC-9 3805 on the Modoc Line. There are some long pacing scenes of Cab Forwards, all in color and with live sound!

Volume 2 begins at Tucson in the 1940's with 4-10-2's, Cab Forwards, Daylights, and even an ex-B&M 2-8-4 and a 4-4-2. Then, you'' move to California for more of Joseph Schmitz's 8mm live sound film in the 1950's. Returning to San Francisco in 1956, he shot a great sequence of steam Commute trains with GS 4-8-4's, MT 4-8-2's, Pacifics and 0-6-0's working the yard. He then moved down the Commute line to San Mateo where these same engines were romping at high speeds. Also covered in Volume 2 are GS-powered Mail Trains and excursions in 1956 with GS engines 4437 and 4439, You'll pace the 4439 at 95 MPH! The show closes with Pacific 2475 running an excursion from San Jose to Tracy on January 1, 1958. All of Joe's footage has live sound to make this a very action-packed show!

I also think you'll be amazed at how well the 8mm film has transferred to video. We sent it to a professional lab for a liquid gate transfer and some of it looks really stunning.

DVD's, Not DVD'R's
Note that these are fully replicated DVD's, not DVD-R's so they should have no problems playing on any DVD player. They also have chapters which you can access by pressing the menu button on your DVD player remote.

Volume 1 is item number 046-D and Volume 2 is item number 047-D. Each is $ 39.95 plus shipping.

We have both volumes in stock now and our 800 number answering service should be ready to handle your order now. Also available now in our on-line store.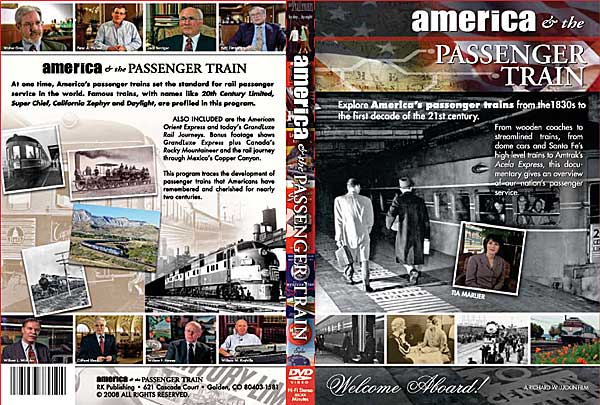 A documentary by Richard Luckin that traces the history of passenger trains in America. Program length 30 minutes plus over 30 minutes of bonus footage of famous passenger trains. Total length: 60 minutes 30 seconds.
A GREAT value for just $ 24.95
Available now in our on-line store now.
ILLINOIS CENTRAL STEAM FINALE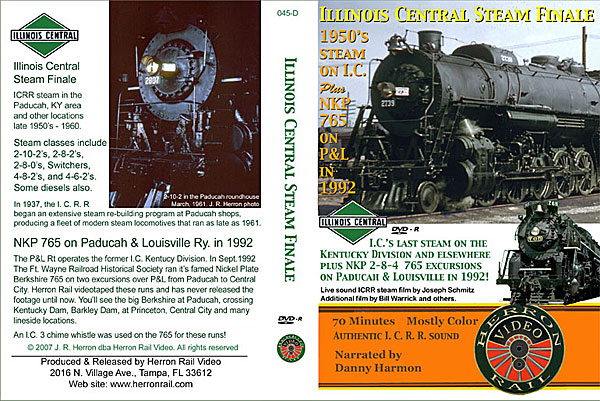 Featuring ICRR steam 1950's-1960 plus ex-NKP 2-8-4 765 on P&L in 1992.
A two part program, this DVD has Illinois Central steam power running in the 1950's in Illinois and Kentucky as steam was winding down. You'll visit the Paducah area and other locations on the Kentucky Division where 2-10-2's and 2-8-2's were the main freight power. Also included are some 2500 class 4-8-2's and 4-8-2 2613 on excursions in 1960 with footage not in our previous IC program. Some of the footage has live sound recorded on the film with the rest augmented by actual IC steam audio. You'll see how the Paducah shop was so important to the IC's steam operations and you'll see how those same shops cut up many of the steam engines.
Then, you'll return to Paducah in 1992 when ex-Nickel Plate Berkshire 765 ran a pair of excursions to Central City with dramatic footage as the engine runs across Kentucky Dam and Barkley Dam and many other locations.
Plus, we've added a bonus slide show of IC steam at Louisville and Paducah.
A preview of Mid-American Glory ICRR (item 018-D) is also included at the end of the DVD.
All together, it's a 75 minute program narrated by Danny Harmon, 95% color.
$ 39.95 plus shipping and handling.
Available now in our on-line store now.
Steam & Diesel on the B&O Volume 2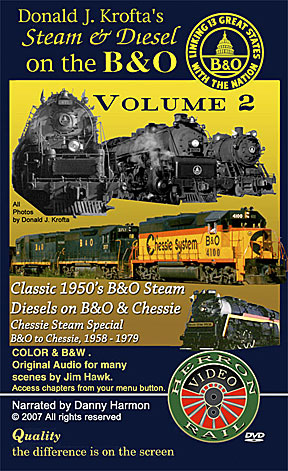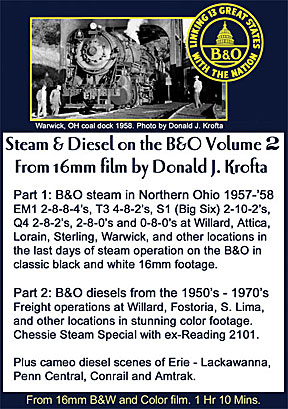 From 16mm film by Donald J. Krofta.

Continuing with Donald J. Krofta's Steam & Diesel on the B&O, this second volume has more of his classic 1950's footage of B&O steam in the 1950's plus colorful diesel footage as B&O turned into the Chessie System in the 1970's and the Chessie Steam Special as it visited northern Ohio in 1977. Along the way, you'll get a touch of Erie-Lackawanna, Conrail, and one scene of Amtrak's Cardinal.

The 1950's steam action takes place at Deshler, Attica Junction, Willard, South Lima, Lorain, Warwick and other places in northern Ohio. You'll find 4-8-2's, 2-8-2's, 2-10-2's, 0-8-0's and the big EM1 class 2-8-8-4's.

Diesels are in the same general area and the Chessie Steam Special was filmed as it ran from Fostoria to Toledo with a service stop at Walbridge. The engine was ex-Reading 2101.

Real B&O steam sound recorded by Jim Hawk brings the steam scenes to life. The diesel sequences also have sound. Maps are included of most photo locations. Running time is 59 minutes plus previews of many other shows using Don Krofta's 16mm film are included at the end.

Total program length with previews is 69 minutes.

Narrated by Danny Harmon.

Price: $ 39.95.
Available now in our on-line store now.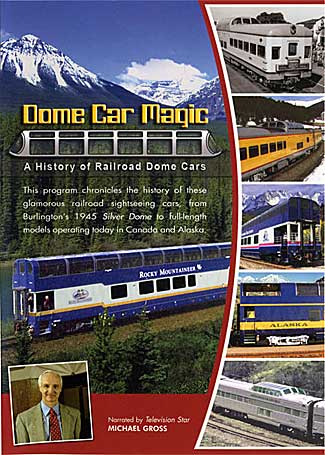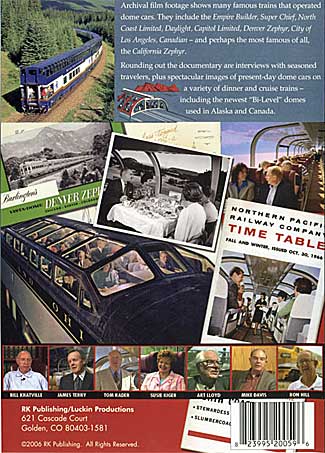 DOME CAR MAGIC, hosted by actor Michael Gross, traces the history of domed passenger cars from their inception in the 1940's through toady's examples in Alaska and Canada. From historic film footage, dome cars are seen on such trains as the Capitol Limited, Empire Builder, Super Chief, City of Los Angeles, Denver Zephyr, North Coast Limited, and California Zephyr.
Also has interviews and comments by railroad officials, historians and travelers who rode those trains. This is a video everyone who loves passenger trains should have.
The running time is 25 minutes and retail price is just $ 19.95. It is in stock now. DVD only.
Available now in our on-line store now.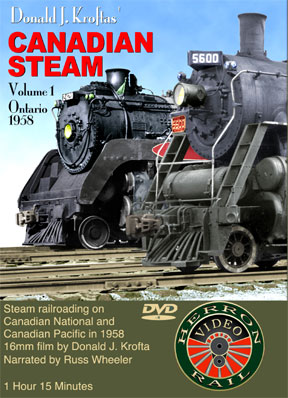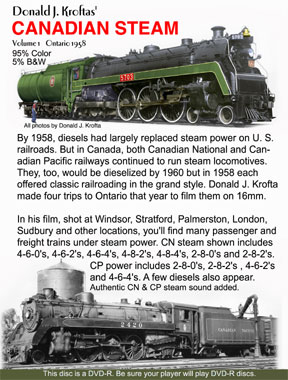 1 hour 16 minutes of great steam action. Only $39.95 (DVD Only)
Available now in our on-line store now.